Commercial print expertise
Graphic designer and illustrator Kate Brand began her career in the greeting card industry. She became vice president and co-owner of Morning Star, a leading greeting card corporation named among the INC 500 (fastest growing private companies in the U.S.). There she oversaw the product development of thousands of greeting card titles each season.

In addition to her skills as a designer, Kate's hands-on experience in the printing industry lends her the expertise to oversee the production of your printed promotional materials from inception to completed printed pieces.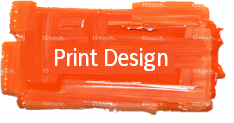 Professionally speaking...
As a corporate speaker, Kate has worked with major companies and organizations, including:
3M
Cenex
Creative Memories
Glamour
Help Systems
Land O'Lakes
Marriott
Precious Moments
Select Comfort
St. Paul Companies
Sysco
ULine
A member of the National Speakers Association and on the board of the Minnesota Speakers Association, Kate brought excellence to each presentation.

Kate distinguished herself by developing custom training and keynotes based on the distinct practices, philosophies and circumstances of each client. This is the same individualized attention she gives her web and print design clients today in order to better understand and fulfill their unique needs.